In this photo taken more than 35 years ago, you can see my father, my one year younger brother and me, dressed in our polish traditional costumes for a cultural celebration in Germany. It's one of my most happy memories.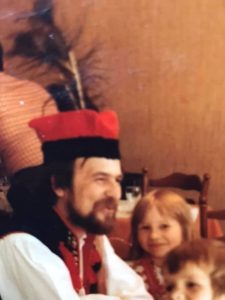 The family had just been united after almost two years of separation (due to political circumstances in my birth country Poland) and our hearts were filled with hope and great dreams for the future.
Most of the dreams did not come true in my father's life of only fifty years, and the hopes were washed away by unbelievable struggle.
A life lived in regrets, sadness, anger and grief.
Grief, I learned is just a strong energy accumulated in our chest that does not move and causes great pain.People who grieve, suffer greatly.
I know my father had a lot of grief to deal with.
People say grief is love with no place to go.
It's the love you want to give but cannot. Maybe because there is no one to receive, maybe because you don't know how.
I found that healing deep grief is very important to move on in life.
We all experience grief at some point in our lives, we all go through losses of all kinds.
My losses were huge and left their marks.
But I learned to grieve properly.
Grieving properly also means for me to set things right.
We sometimes grieve over a loss and it becomes very intense because we placed the person/object, project, home, job etc. like a statue on a pedestal, as a reminder of its perfection, while in fact it was never perfect and we grieve so deeply cause we want to avoid healing our illusions.
My father was not perfect at all and there was a lot to learn and to forgive.
My father was one of my greatest teachers for unconditional and true love.
Not by being such a great example of it.
By being the way he was: Not able to express his love properly.
I learned the most from watching that pain.
True love is not praising someone for all their good, it's loving them for everything, all in total, who they truly were or are.
It's forgiving them everything unconditionally, all they did us wrong and all they could not do for us.
True love is not a one sided, blinded affection -addiction.
True love is born by embracing all aspects.
The same is true for hate.
Often people hate something about someone and they focus on that only.
They can't see the other love-able aspects.
When they could, hate would transform to love.
True love would be born.
I went through this process of feeling hate for my father to loving him.
I learned that most people on earth are afraid of that kind of love.
When we truly love someone, we love their wholeness and don't leave things out.
When we grieve about them, we need to allow ourselves also to feel the sadness and pain they caused to us.
Not only the pain that their absence causes.
When a loss occurs the energy in our heart area builds up to a huge cloud and then it can crack our heart open and lots of feelings can come up.
These could be all kinds of feelings from the past, we did not process or allow ourselves to feel.
We have to acknowledge the bad experiences, the disappointment, the fear, anxiety, anger and more that people we lost caused to us.
In this way we grieve authentically and the grief will remain in proportion and be free of ego-grief.
Ego-grief is truly an attachment to illusion and it only builds up when we can't see things for what they truly were/are.
I know that the grief I am experiencing is also a lot about the missed opportunities my father had.
All the wasted potential and unfulfilled life tasks.
The loss of his soul journey and the unfulfilled desire to be close to the Source.
My father had a great passion for life but did not know how to express his driving passion and how to channel it into something good.
I know when I grieve about that, I also grieve about my own inability to express mine.
He continues to teach me things still, a long time after he is gone.
I learned to love my father with my whole heart.
I learned to love him for who he truly was not only for what I wanted him to be.
My father was not a father figure like we are programmed to believe fathers should be.
My father was the one my soul chose to be with to teach me all about unconditional, true love, I wanted to learn.
He accomplished this part of his task and I am deeply grateful for that.
With my deepest love and gratitude
Happy Birthday Dad.
Lenka.
PHOTO
My father Richard Kusch, my one year younger brother C.K. and me in 1983, Frankfurt Germany
PUBLISHED
for the first time on 17th of February 2020, my father's birthday 
Magdalena Kusch
Creator and Owner of Purity.
Certified Master Teacher of Tao Academy.
Love Peace Harmony Ambassador.
Tao Calligraphy Artist.
Yoga Teacher.
Psychologist.