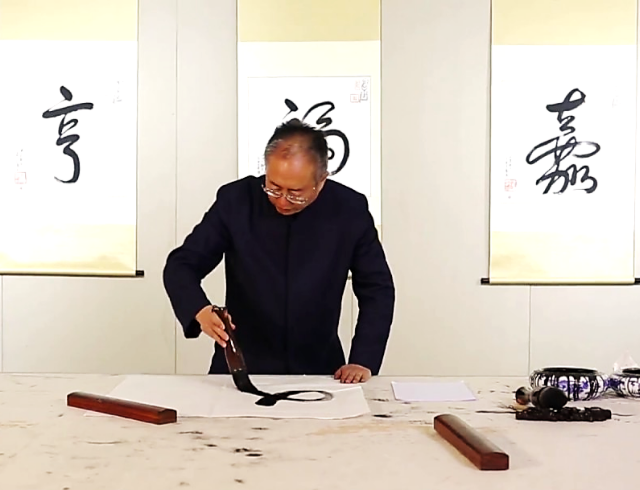 Tao Calligraphy is a revolutionary healing art based on an ancient form of one-stroke calligraphy (Yi Bi Zi) that Dr and Grandmaster Sha learned from sole lineage holder, Professor Li Qiu Yun.
Tao Calligraphy creates a powerful vibrational field that carries the positive messages of Tao Source, such as unconditional love, forgiveness, harmony, flourishing and more.
In this unique vibrational field, we can transform negative information and energy in our own vibrational field by absorbing the positive information and energy of the Tao Calligraphy. This can result in positive changes in peoples lives.
The extraordinary healing art of Tao Calligraphy radiates out a heavenly frequency and vibration that can be harnessed by those connecting with this vibrational field to help them heal, rejuvenate, transform, and enlighten their physical, mental, emotional, and spiritual bodies.
In this unique form of oneness writing, the calligrapher applies one stroke – one flow of qi (energy) – to write high frequency, positive messages that cultivate wellbeing and a sense of oneness. When practicing Tao Calligraphy by writing, tracing, or meditating in its field, we align with the principle of Oneness and the positive vibrational field that brings balance, rejuvenation, and healing into our lives.
Tao Calligraphy
One month daily Healing
During the one month daily healing with the Tao Calligraphy, the practitioner writes and traces specific calligraphies that are designed to bring healing and transformation to the individual request every day for 10-15 minutes. 
The Healing period also includes three times a 10-15 minutes session to evaluate the condition and the progress over the month. This involves spiritual readings from the Akasha Records as well as the assessment of the human being with the spiritual channels. This offer is applicable for any request and highly recommend for chronic, physical, mental or emotional conditions. 
Tao Calligraphy
One Time Special Healing
Please read more information about the Tao Calligraphy Healing in the previous description. 
The Tao Calligraphy Healing is also available as an one time healing and includes that the recipient will receive an original Tao Calligraphy created by Magdalena Kusch for their personal request.
The participant can trace, mediate and practice with the sacred treasure by themselves.
PEASE NOTE 
When shipping is not possible to a certain area, the calligraphy will be written and delivered in digital form. 
 The shipping costs are not included in the treatment-fee. 
Tao Hands is a spiritual transmission that can help prevent and heal illness, create harmony in relationships, enhance finances and business, and empower people to fulfil their  true potential.
Everyone and everything have a frequency and vibration, and with the high frequency and vibration of Tao Hands pure light is sent to an area of a body or a request and this light can transform negative messages that cause challenges in every aspect of life to positive, healing messages.
Tao Hands work because they carry the Tao qualities of unconditional love, forgiveness, compassion, light, and more.
Tao Hands can be applied in many situations, from everyday problems to serious chronic illness and mental and emotional distress.
Tao Hands Healing is compatible with all other healing modalities and can enhance their effectiveness and has helped thousands of people to release stress and pain, to find happiness, and to discover new abilities and greater potential. 
Tao Clearing and Balancing
The Tao Healing System is a revolutionary spiritual Healing System that focuses on the transformation of negative information to positive information and nourishes the recipient with pure Tao Light.
The Tao Healing System can be applied for example for the five elements and all key organs, systems and areas of a human (or animal) body or health conditions.It can also be applied for many aspects of life, like for example relationships, finances, business, residence, land, and more.
Tao Healing System is also possible for Energy Centers and Spiritual Channels as well as for healing of unbalanced emotions and the unhealthy conditions of the mind.
It is also available for Spiritual Healing of Viruses, Bacteria and Fungus.
The System always includes three steps:
Tao Light Clearing and Balancing for one request
Transmission of a Tao Jin Dan (Golden Light Ball from the Tao) for the same request
Guidance for self-healing practices with the Tao Jin Dan for further self-healing and transformation.
The minimum Honour- Fees is 2000 SEK and could be higher depending on the request.

For first time recipients it is highly recommended to receive a Akasha Record Reading first.
Tao Crown Chakra Blessings
A Tao Crown Chakra Blessing is a very unique powerful one time clearing as well as nurturing of a human being with pure Tao Light and high frequency and vibration. 
It is possible for any aspect of health and life. 
During this spiritual healing the Tao Light enters the body directly through the crown. When this treatment is offered in person, the practitioner places the palm over the head of the recipient. 
In this process a unique Tao Light Channel opens up and provides healing and nourishment through the central energy channel (Chi Channel) in the body and clears Shen-, Qi-, Jing- Blockages to restore health and provide good energy flow. 
This treatment can also be offered remotely.
Feng Shui is an ancient art and science that was developed over 3,000 years ago in China. The literal translation of "feng" means wind and "shui" means water.
In Chinese culture, wind and water are both associated with good health.
Based on the Taoist vision and understanding of nature, the wisdom is that land is alive and filled with energy, called Qi.
In Tao Science everyone and everything is made of Shen (Soul, Heart and Mind) , Qi (Energy) and Jing (Matter) and creates an energy field (Chang). 
Feng shui is essentially the interaction of humans and their environments.
It enables you to influence these interacting energies to achieve specific life improvements. This influence is gained by positioning or designing your surroundings in harmony with principles of natural energy flow.
Feng Shui reveals how balanced the energies of any given space are, to assure health and good fortune for those inhabiting it.
When the Feng Shui is good in a room, apartment, house, office, store and more, one will feel comfortable, peaceful and happy in that place and could benefit from great health, stamina and vitality. 
Feng Shui blockages can cause health challenges and all kinds of symptoms like sleeping disorders and disharmony in relationships or stagnation in business. 
A Feng Shui Blessing can clear the negative information that could be stored in the place as well as help to provide a balanced energy flow. 
If you wish to receive a Feng Shui Coaching to transform your living or working space according to the Feng Shui rules and principles, please fill out the contact form to make a personal appointment, also remotely.
The Feng Shui Coaching Starts at 2500 SEK for 60 minutes and the time and fee depends on the size of the space.